What is SwissBorg (CHSB coin) ?
SwissBorg is a cryptocurrency wealth management application built using blockchain technology. The platform allows you to trade and invest in major cryptocurrencies such as Bitcoin, Ethereum, among others in the simplest way. This Swiss crypto exchange has a wide range of offerings such as crypto trading, investing and crypto yields.
The highlight of SwissBorg is that it makes it easy for everyone to buy, sell, and invest in crypto assets. The platform is simple yet powerful. SwissBorg uses deep-learning algorithms, smart contracts, and robot advisors to give you more confidence while trading and investing in cryptocurrencies.
Some of the key features are:
Advanced Security
Smart Engine 
Analytical Tool  
Crypto Bundles
Smart Yield Account 
CHSB coin is the native cryptocurrency that powers the SwissBorg platform. Currently, it ranks amongst the top 100 crypto tokens according to CoinMarketCap.
In this review post, we will answer everything – What is SwissBorg? How does it work? What are its services? By the end of this article you will have a clear idea of whether you should sign up for SwissBorg or not.
Let's get started!
Crypto Wealth Management Application
The traditional wealth management ecosystem is dominated by central establishments. Plus, the benefits remain in the hands of few elite customers.
SwissBorg aims to change this scenario by democratizing wealth management using cryptocurrencies. It decentralizes wealth management as it is built on blockchain technology.
Don't be intimated. SwissBorg offers an easy-to-use platform that helps you to easily navigate the crypto world. The best part is that SwissBorg orchestrates all the necessary tools under one roof. Trading, investing, earning yields, bitcoin prediction, you name it – SwissBorg has almost everything crypto. Furthermore, to make crypto investing simpler, it provides advanced analytical tools that provide great insights into your crypto portfolio.
Swiss Crypto Exchange – Decentralizing Personal Finance
SwissBorg is a Swiss crypto exchange that allows you to easily buy, sell, and invest in 16 major cryptocurrencies like Bitcoin, Ethereum, USD Coin, Dai, among others. You don't need to search for the best exchange rates as SwissBorg allows you access to the best exchange rates by connecting to major cryptocurrency exchanges.
Technically, SwissBorg is much more than a cryptocurrency exchange. The SwissBorg platform offers a complete wealth management solution. Their services include –
Crypto trading – Trade 16 major crypto assets at the best rates
Balanced Crypto Bundles – A group of selected cryptocurrencies that are balanced automatically to improve yields.
High-interest bearing yield program – With this feature, you earn annual yields between 9% – 37.55% on major crypto assets.
Bitcoin Prediction – You bet on Bitcoin's future prices and earn rewards if you win.
As for accessibility, SwissBorg has a web application and two mobile-based applications – Wealth App, and Challenge App (formerly known as Community App).  These applications are available for both Android and iOS devices.
The native cryptocurrency of the SwissBorg platform is represented by the ticker symbol – CHSB. The CHSB tokens act as the fuel of the SwissBorg platform. Everything from payment, rewards, governance is powered by CHSB tokens.
SwissBorg is indeed simplifying crypto investing while making it more rewarding. How, you ask? Let's find out by diving into each component of the SwissBorg platform!
SwissBorg Wealth App
Launched in 2020, the SwissBorg Wealth App allows you to easily manage your crypto portfolio.
With the Wealth App, you can trade cryptocurrencies as well as deposit and earn interest on your crypto assets. The best part is that SwissBorg provides you the best exchange rates by drawing liquidity from leading exchanges like Binance, Kraken, LMAX, and HitBTC. This way you get the best rates without hopping on several exchanges in search of the best deals.  Also, the user interface is beginner-friendly with all the features loaded to make crypto investing easier for you.
Talking about supported assets, you can trade 16 different cryptocurrencies on SwissBorg:
Bitcoin (BTC)
Ethereum (ETH)
SwissBorg Token (CHSB)
USD Coin (USDC)
PAX Gold (PAXG)
Enjin Coin (ENJ)
Aave (AAVE)
Binance Coin (BNB)
KyberNetwork (KNC)
Dai (DAI)
Compound (COMP)
Ren (REN)
Uniswap (UNI)
Utrust (UTK)
Polkadot (DOT)
Chilliz (CHZ)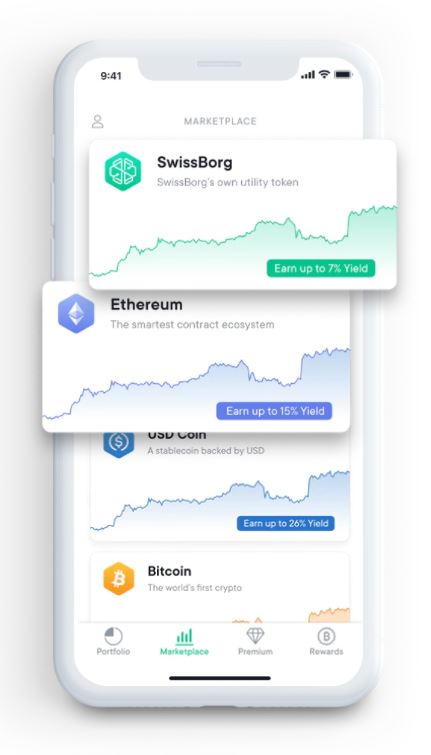 Also, SwissBorg is available in over 110 countries (excluding USA). As for funding, you can add funds to your SwissBorg account using 15 fiat currencies including EUR, GBP, CAD, and CHF to name a few. On top of this, withdrawals are hassle-free as SwissBorg partners with banks that belong to SEPA which facilitates faster payment completion – some as quick as under five minutes.
Now that you have a brief idea about SwissBorg's Wealth App, let's discuss what makes it stand out.
Advanced Security
SwissBorg has robust security measures to protect your funds from cyber attacks.
To ensure that your funds remain secure, SwissBorg has adopted measures like:
MPC cryptography
Stress tests
Advanced security software
Smart Engine
The Smart Engine automatically analyzes hundreds of trading pairs by searching all the major cryptocurrency exchanges. Yes, you don't need to sign up for different exchange platforms just to find the best rates. SwissBorg Wealth App does it for you.
In short, Smart Engine's automatic searching gives you the best liquidity and exchange rates in seconds.
Analytical Tool 
The Wealth App provides you granular insights into your crypto portfolio by analyzing your assets every hour using its deep learning algorithms.
This deep-learning powered analyses provides you:
The overall performance of your portfolio.
Real-time advice on how to improve your returns.
The weak spots in your investing strategy.
With all this information, you will be able to minimize losses.
In addition to analytical tools, the Wealth App also has robo advisors that can potentially predict the direction of market trends. This will help you to make better crypto investment decisions.
Crypto Bundles
Similar to balanced funds, SwissBorg Wealth App has pre-selected baskets of cryptocurrencies that help you improve the returns. These crypto bundles are rebalanced continuously by shifting your funds into the best performing crypto assets. At the same time, the worst performing assets are automatically removed from the bundle.
Smart Yield Account
The Smart Yield Account is an interest-bearing account that allows you to earn annual interests on your crypto deposits. With the Smart Yield Account, you can earn up to 37.55% APY on them. For this, the Smart Yield account connects you to decentralized finance (DeFi) applications with best yield programs.
Here's the available crypto assets for earning interest on SwissBorg (May, 2021):
| | |
| --- | --- |
| Cryptocurrency | Interest per annum |
| USD Coin (USDC) | 37.55% |
| SwissBorg Token (CHSB) | 10.23% |
| Ethereum (ETH) | 18.03% |
| Bitcoin (BTC) | 9.00% |
Additionally, the SwissBorg platform is working to add BNB tokens to their Smart Yield program. Please check their website or app for the latest interest rates.
SwissBorg Challenge App
Formerly known as the SwissBorg Community App, the Challenge App allows you to speculate on the future price of bitcoin and earn a handful if your prediction wins. In short, it is a gamified prediction app for earning bitcoins.
The application is available for both Android and iOS devices with over 200,000 players.
SwissBorg Premium
SwissBorg premium has all the benefits of the standard plan such as smart engine support, multi-fiat account, hourly asset analysis, and rewards. Plus, it has some additional offerings –
Reduced exchange fees – 0% on BTC, CHSB, and stablecoins. 0.5% on other assets.
2X yields  – Earn two times the interest on your USDC, BTC, ETH, BNB, and CHSB deposits.
To become a premium account holder at SwissBorg, you need to purchase 50,000 CHSB coins and stake it for 12 months. During this period, you cannot withdraw or exchange the locked tokens.
Once the token lock-up period is completed, you can withdraw the staked tokens plus your premium account status will be maintained.  
SwissBorg Referral Program
With SwissBorg's referral program you can earn BTC units by inviting your friends on SwissBorg platform. Each successful invite will give you and your friend a Rewards Ticket valued between 1 EUR – 100 EUR
Here's how it works.
Open the Rewards Tab in the SwissBorg App. Here you will find your unique rewards link. Share this invitation link with your friends. If your friend downloads the SwissBorg application using your link and deposits 50 EUR or more, you and your friend will receive the rewards ticket.
Once you get the reward ticket, you can clain your BTC reward.
Everything You Need To Know About CHSB Coin
CHSB is the native cryptocurrency of the SwissBorg platform.
It is a multi-utility ERC-20 token that is used to pay for services on the SwissBorg platform, earn staking rewards and participate in the protocol's governance. In short, CHSB coin powers the entire SwissBorg ecosystem.
As for availability, the majority of CHSB coins are traded at HitBTC exchange. You can also buy CHSB coins from other popular crypto exchanges like Uniswap, KuCoin, and Bilaxy.
Price Performance
At its launch in February 2018, CHSB coin was trading at $0.10 per token. By August, the token plummeted to $0.01. The token remained there until January 2020, when it moved to $0.02. In 2020, the token started exploding. The price of each CHSB coin went from $0.02 in January to $0.15 in May. Nevertheless, the price fell aginto $0.07 in October. It started to explode completely in November and in few months it was traded above $1! 
Tokenomics
CHSB tokens have a maximum supply of 1 billion units. At their ICO in January 2018, SwissBorg minted all of their 1 billion CHSB tokens.
Here's the token distribution:
38% – Community sales to the public
20% – Team members
10% – Strategic Investors
15% – Second funding round
14% – Investors
Benefits of CHSB Coin
There are several benefits of holding CHSB coin:
You get access to exclusive wealth management products.
Staking 50,000 CHSB tokens will unlock premium membership. Here, you pay low exchange rates plus, there are no fees.
Holding CHSB coin allows you to vote for future improvements on the SwissBorg platform.
If you put your CHSB tokens in the yield program, you will earn interest daily.  The APY of CHSB yield is 10%.
CHSB Coin Use Cases
As mentioned before, CHSB is a multi-utility token with several use cases. You can use CHSB coins for:
Paying fees on SwissBorg
Earn staking rewards and unlocking premium benefits
Participate in governance
Earn yields on your crypto deposits
Additionally, CHSB tokens are also used to distribute rewards set out by SwissBorg's Proof of Meritocracy.
Proof of Meritocracy
If you hold CHSB tokens, Proof of Meritocracy allows you to participate in the development of SwissBorg platform. 
When you hold CHSB tokens, you will receive RSB tokens. You can use these RSB tokens to vote for referendum proposals on SwissBorg. The voting weightage is determined by the number of RSB tokens you have. The more RSB tokens you have, the higher your voting power.
For participating in referendum voting, you receive rewards. 
Protect and Burn
SwissBorg's Protect and Burn program is used to control inflation and support the price of CHSB coin. To accomplish this, SwissBorg buys back and burns the circulating CHSB tokens when the price of CHSB tokens is bearish.
This burning policy is price based. Meaning, the buyback of CHSB tokens is not announced prior to burning coins. Thanks to this, you don't need to worry about people taking advantage of arbitrage opportunities.
Every month SwissBorg allocates 20% of the Wealth App fees to a reserve for the buyback program. If the CSHB coin falls below a certain price limit, SwissBorg automatically buys CHSB tokens using this reserved funds, thereby reducing the circulation of CHSB tokens.
SwissBorg Governance
SwissBorg platform is governed by SwissBorg Decentralized Autonomous Organization (DAO). It allows the SwissBorg community members to participate in the protocol's governance and earn rewards for their participation. The DAO acts as a bridge connecting the SwissBorg team members and the users.
The SwissBorg team has defined different roles for community members to participate in SwissBorg:
Digital Artist – To promote SwissBorg projects by creating videos, presentations, pictures, etc.
Translator – As the name suggests, translators are required to translate important documents in their native languages.
Promoter – As a promoter you will be required to market SwissBorg on different social media platforms.
Moderator – A moderator regulates communications on forums and discussion boards used by SwissBorg. The moderator has to enforce group rules, remove inappropriate content, promote healthy discussion, etc.
Campaigner – Unlike promoter, campaigner is responsible for SwissBorg marketing on real-world channels such as meetups, AMAs, group meetings, and other in-person events. 
Business Introducer – Business introducer acts as the ambassador of SwissBorg project. The business introducer's role is to connect with business partners, investors, and crypto influencers.
SwissBorg Team
SwissBorg team has experts from all domains – software, finance, blockchain, you name it. Overall, SwissBorg has employees from 20 different countries.
SwissBorg was founded in 2017 by Cyrus Faizel, current CEO and co-founder. Cyrus has a decade long experience in asset management and algorithmic trading. Before creating SwissBorg, he was the Senior Hedge Fund Advisor at SEQUOIA Asset Management SA. Additionally, Cyrus is also the co-head of Disruption Disciples, a decentralized group of global innovators.
Anthony Lesoismer is the second co-founder and current CSO of SwissBorg. Before co-founding SwissBorg, Anthony was the head of Financial and Market Digital-advisory at JFD brokers. Apart from this, he also worked in several sales positions in derivatives and ETFs.
Another prominent member of the SwissBorg team is Nicolas Remond. He is currently the CTO of SwissBorg project. He has obtained a Master's degree in Computer Science degree from Ecole nationale supérieure des Mines de Paris. Nicolas is indeed an experienced software developer. However, he didn't have any experience in blockchain technology before joining SwissBorg.
Summary
SwissBorg is a crypto exchange from Switzerland that offers cryptocurrency trading and investing. The Wealth App is the flagship product that allows you to trade, invest, and earn yields on your crypto assets. Challenge App is another SwissBorg application which allows users to earn rewards by speculating on Bitcoin's future price.
The SwissBorg platform has transparent fees and one of the highest yields on their interest-bearing accounts. Also, the analytical tools make investing much easier while minimizing losses.
All of the functions on SwissBorg platform are powered by its native cryptocurrency – CHSB coin.
Talking about governance, SwissBorg has a DAO model. Users can easily vote on SwissBorg's development proposals, thanks to SwissBorg's Proof of Meritocracy policy. Further, to encourage maximum participation, users are rewarded for their participation in the platform's governance.
To ensure that CHSB token's value increases overtime, its issuance is algorithmically hard-capped at 1 billion units. In theory, if the demand increases, this limited supply will cause CHSB's value to surge. Further to support CHSB price, each month SwissBorg keeps 20% revenue from the Wealth App to buyback CHSB tokens, in case the token takes a bearish turn.
Considering all this, it would be wise to say that SwissBorg has set the bar high for wealth management applications.